About Us
WIGGLE. GIGGLE. PLAY.
We are Washington's award-winning indoor playground for kids under 48″ tall
Located in Bellevue and Puyallup, WA, we provide a super-fun place for kids and a unique approach to staying active.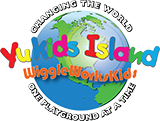 Our Playscape
Built on YuKids
We take pride in providing only the best attractions for your kids to enjoy. Designed to accommodate infants through preschool-aged children under 48" tall, the Yu Kids PlaySystem from BLD Oriental Ltd is a completely soft-play system that MOVES. Children can jump, run, climb, bounce, spin, tumble, and slide.
The total WiggleWorks Kids play experience is designed to provide all children with ample opportunity to work on gross motor skills, coordination, and balance while helping to increase strength, flexibility, and agility. For our infant patrons, we have a specially designated area, away from toddler and preschool kids, with age-appropriate toys and activities to foster learning and development.
See the fun and exciting play that is awaiting at our indoor playgrounds in Bellevue and Puyallup…